CCNE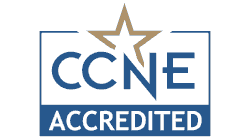 Commission on Collegiate Nursing Education
655 K Street, NW, Suite 750
Washington, DC 20001
Phone: (202) 887-6791
Fax: (202) 887-8476

BSN from November 13, 2019 to June 30, 2025 (Next on-site visit Fall 2024)
MSN from November 16, 2016 to June 30, 2022 (Next on-site visit Fall 2021)

---
El programa de Bachillerato en Ciencias de Enfermerí­a y los programas de Maestrí­a en Ciencias de Enfermerí­a de la Universidad Adventista de las Antillas están acreditados por la Commission on Collegiate Nursing Education (http://www.ccneaccreditation.org).
The baccalaureate degree program in nursing and the master's degree programs in nursing at Antillean Adventist University are accredited by the Commission on Collegiate Nursing Education, 655 K Street NW, Suite 750, Washington, DC 20001, 202-887-6791.
CCNE Accreditation Review and Request for Third-Party Comments

School of Health Sciences Announcement
August 23, 2021
Masters of Science in Nursing Program Upcoming Accreditation Review
This notice is to all stakeholders, which includes faculty teaching in, students enrolled in the programs under review, community members, and all others that The School of Health Sciences at Antillean Adventist University will host an accreditation visit by the Collegiate Nursing Education (CCNE) on November 10-12, 2021. The Masters of Science in Nursing Program (MSN) will be reviewed ror re-accreditation.
All interested parties are invited to submit in writing comments concerning the program's qualifications for accreditation. During its review of the program, the evaluation team considers third-party comments related to the accreditation standards. CCNE shares third-party comments with members of the evaluation team but does not share the comments with the program during the review process. All comments submitted to CCNE must be written in English, consistent with CCNE's policy on Conduct of Business in English, and must be received by CCNE no later than October 20, 2021. Any comments for a program currently under review, must be directed to CCNE at:
thirdpartycomments@ccneaccreditation.org
.